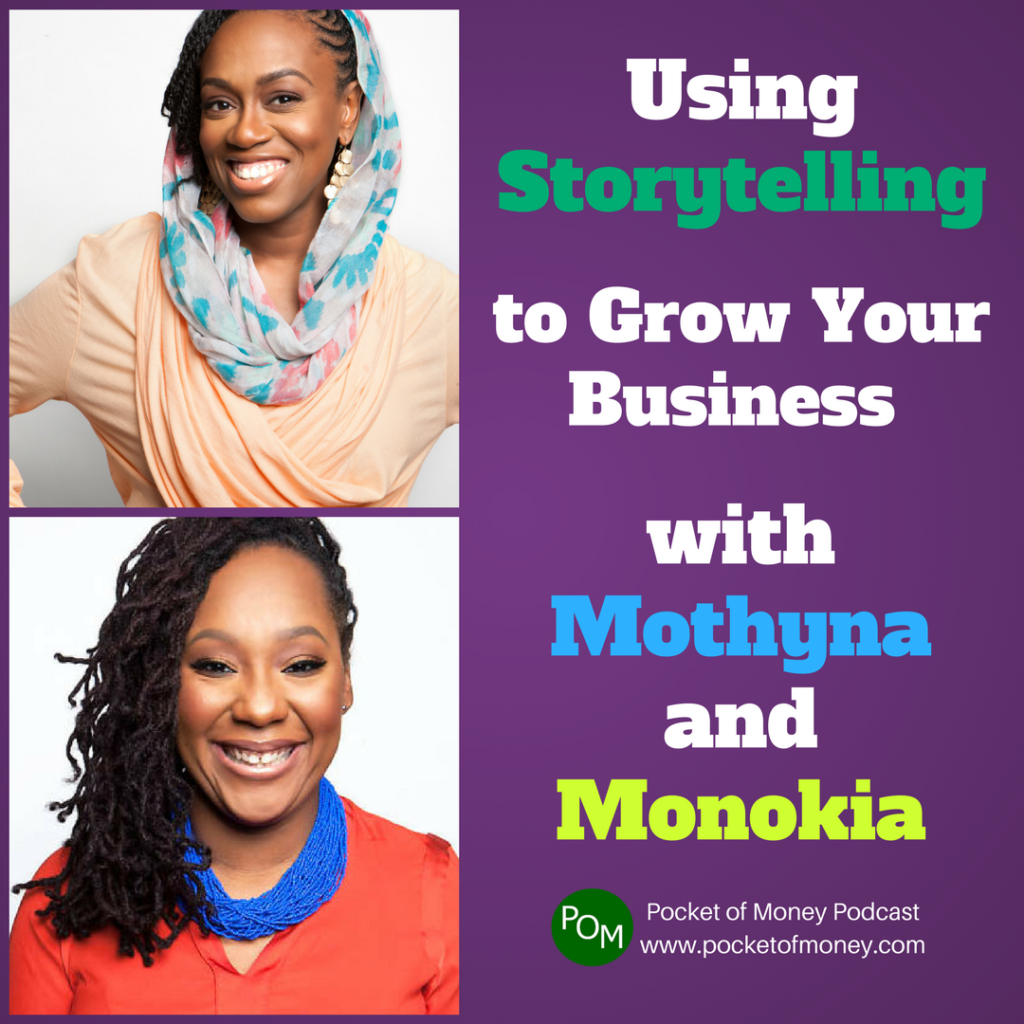 Did you know if you're an entrepreneur that you're also a storyteller? You have to explain your product or service so you have to use storytelling to grow your business. Why am I saying storytelling?
Well the best people to answer that is Mothyna James-Brightful and Monokia Nance. In this episode they'll explain the difference between speaking and storytelling and why each entrepreneur should be a storyteller to grow their business.
Mothyna James-Brightful
Mothyna James-Brightful has a mission to work with women and girls to build upon the quality of their lives and thus that of their families and communities. A professional public speaker for over 12 years, she has worked in the field of Sexual Violence prevention for the last 11 years. Sister Mothyna has honored speaking requests at numerous conferences, community programs and schools.  Mrs. James-Brightful holds a Bachelors Degree in Journalism from Morgan State University and a Masters in Human Service Administration from The University of Baltimore. In recognition of her works, she has appeared in publications such as Black College Today, Ebony, Trends Magazine, Be What I Want to Be Magazine and The Afro-American Newspapers. She is also the co-author of Because I am a Queen…100 Affirmations for Daily Living. In addition to her commitment to her community, Sister Mothyna currently serves as the Director of Community Education with TurnAround Inc. a non-profit that works with victims of Domestic Violence and Sexual Assault. Her most recent publication is Engage Inspire Prevent: Strategies for Educating Teens on Sexual Violence. Sister Mothyna is the co-founder and Director of Operations for Heal a Woman to Heal a Nation, Inc.
Monokia Nance
Monokia Nance, founder of Artistic Mirror Marketing & Design, Inc., is a creative arts enthusiast who combined her passion for the arts and almost a decade of experience in youth development to reach young people of all ages and their families.  Realizing that many families currently consist of single mothers catapulted her on a journey to focus on women.  As a result she Co-founded Heal a Woman to Heal a Nation, Inc. and currently serves as the Executive Director.  While pursuing a Bachelor of Science degree in Public Relations at Morgan State University, Mrs. Nance has had the opportunity to cultivate her skills, both locally and statewide.  Her company has serviced a wide variety of clientele ranging from institutions  to local businesses such as: University of Maryland Poison Center, Baltimore City Public School System, The After-School Institute, Gypsy Soul and Be FRAMED. Mrs. Nance has made it her life's work to create lasting changes in the lives of, to advocate for, and nurture the growth of youth and their families by planning and implementing school, community, and religious outreach programs. 
Resources Mentioned:
Unlimited Women Private Group – community of sisterhood with accountability and support
Unlimited Women Membership – online courses, tools, resources in a community of sisterhood with accountability and support
Key 3 Barrier to Becoming a Storyteller Speaker – free resource to help you speak powerfully to grow your business
Thanks for listening:
If you have any comments or questions about this episode, leave a comment below. If you liked what you heard subscribe on iTunes and rate it. This helps the podcast show up for others.