POM062: Cutting Costs Versus Increasing Income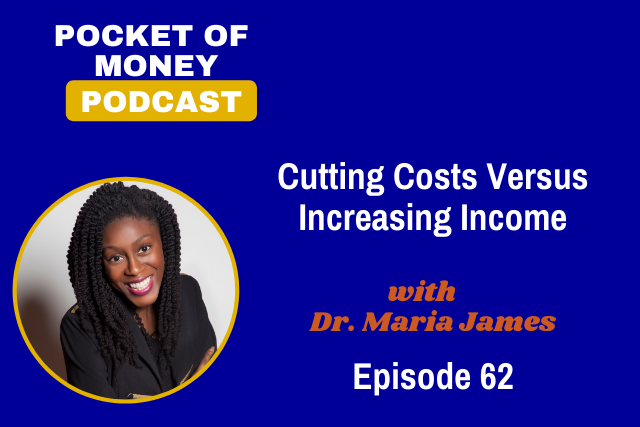 I've debated with others if a person who is working on mastering their money should be focused on cutting costs and decreasing expenses or increasing income. This is a question or debate have seen play out online as well. In this episode, we are going to talk about which one is the best way to increase financial fitness: cutting costs or increasing income.
Resources Mentioned:
WISE Financial Fitness is filled with personal finance and business courses, protocols, and resources to increase your financial fitness. You can be paired with a Junior or Senior Money Scientist to craft a comprehensive money strategy for your unique situation. To get the 60% discount, use the code WISE60. It expires February 15, 2021.
This financial planner helps you consistently budget (by month or paycheck), analyze your budget, and track and analyze side hustle earnings for profit. If you don't like your financial situation, then change it.
WISE Money Challenge Tips to Save and Earn More Money
Ebook where I include over 100 side hustle resources in 10 categories. This book also contains in-detail 22 specific actionable tips to save or earn more money. It's set up as a challenge to get you to take an action each day.
Go from "I hate budgeting" to consistently planning, successfully budgeting, and saving money every month with the WISE Budget Box subscription. Only $75 per quarter ($25/month).
Just when you start to fall off, the WISE Budget Box will give you a motivational jolt and a box filled with a new set of tools every 90 days. You'll also have continuous access to the WISE Financial Fitness portal filled with courses, protocols, and digital resources.
Thanks for Listening
If you have any comments or questions about this episode, leave a comment below. If you liked what you heard subscribe on iTunes, Stitcher, or wherever you listen to podcasts and rate it. This helps the podcast show up for others.