POM057: Pocket of Money Podcast is Back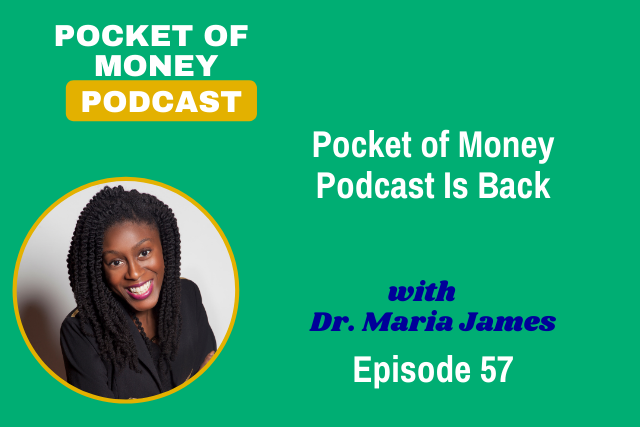 It's time. The podcast will be back in action. After a hiatus, we're back with all new content for your financial success journey. Stay tuned.
Episode Transcript
Wow, it's been a year and a half since the last Pocket of Money Podcast episode. It seems surreal that it's been that long, but I had a good reason.
In full transparency, I felt the message I wanted to convey was getting a little lost and I wasn't serving as much were in the way that I wanted to serve. I felt I wasn't bringing a unique and helpful enough perspective. So I took a pause to gain clarity what would be best in helping you with your financial success journey, the your side hustle or business journey.
As 2020 became crazy for all of us, and very difficult for a lot of people, I knew that needed to get myself together and finish revamping the podcast to be able to continue sharing information and resources.
Well after my hiatus of a year and a half, the podcast is back and I will be sharing episodes once a week. We will still be discussing making money and managing money topics. I only say making money and managing money are two separate skills and the each have to work on both.
I've seen and spoken with a number of professionals and entrepreneurs who make multiple six figures but don't have enough money saved to cover one month of expenses. Current events show why this is problematic whether you're an employed professional or an entrepreneur.
Also, we've seen of the importance of multiple streams of income through investing, side hustles, and entrepreneurship.
I want to pass along information and resources that will help you maintain and accelerate your financial success journey. While financial success may look different for each of us, meaning what we are able to do, how much money we have, who we are with … we can discuss the different paths to reach financial success and share with one another tips to get there.
I'm really looking forward to sharing and discussing financial freedom and entrepreneurship with you. Look out for the first real episode to be released on January 5, 2021.
If you have a question or topic that you would like discussed, then send an email over to info@pocketofmoney.com.
Thanks for Listening
If you have any comments or questions about this episode, leave a comment below. If you liked what you heard subscribe on iTunes and rate it. This helps the podcast show up for others.