POM056: The Hard Truth to Running a Successful Nonprofit in the Digital Age with Sarah Olivieri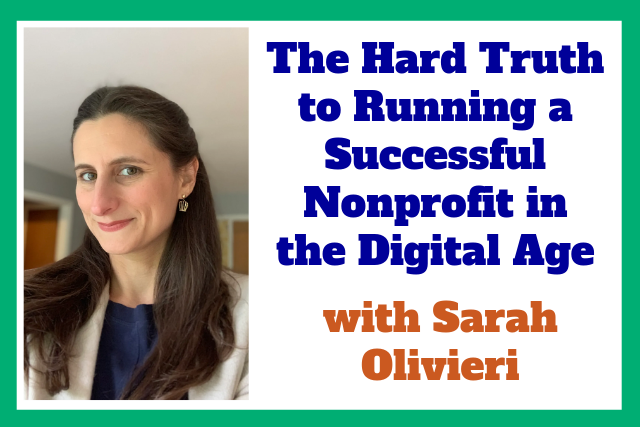 In this episode, Sarah Olivieri explains key misconceptions and obstacles when starting and running a nonprofit. She explains what truly needs to be done in order to raise funds for your nonprofit. We discuss:
the biggest misconception about nonprofits
key differences between for-profit and nonprofit
the best fundraising strategy and why events are it
how to attract funds
how to engage with donors in the digital age
the type of events that actually work for fundraising will digital methods to fundraise
Sarah Olivieri
Sarah Olivieri is a nonprofit strategist with a passion for helping organizations thrive in the digital age. The founder of PivotGround, Sarah helps human-service nonprofits increase capacity, deliver better programming, attract more funding, and make the world a better place. She is the creator of the Impact Method™ – a business framework for nonprofits designed to help nonprofits thrive in the digital age. She has over 15 years of nonprofit leadership. Sarah co-founded the Open Center for Autism and was the executive director of the Helping Children of War Foundation. She is also a published author whom co-wrote Lesson Planning a la Carte: Integrated Planning for Students with Special Needs.
Resources Mentioned
Executive Director Coaching Program – program offered by Pivot Ground to optimize and organize startup nonprofits and small nonprofits. Fill out the contact form and ask about the program.
Thanks for Listening
If you have any comments or questions about this episode, leave a comment below. If you liked what you heard subscribe on iTunes and rate it. This helps the podcast show up for others.