How to Buy a Used Car: Beginner's Guide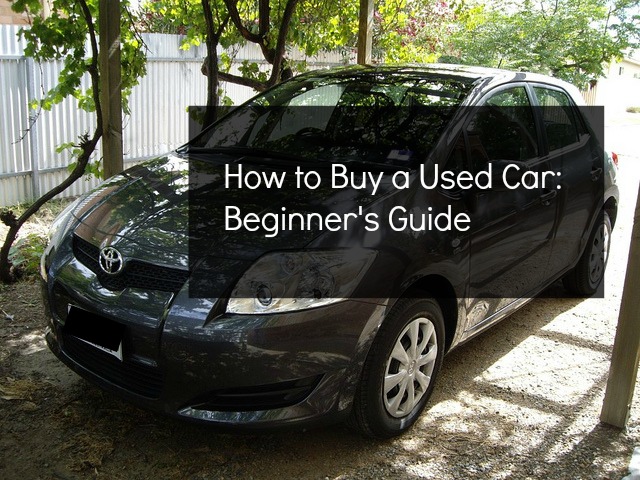 I'm thinking about buying a used car and I had no idea where to start. Total beginner here. No clue what to look for, where to look, or what criteria to have. How many miles are too many? How old is too old?
All I knew was that a used car can save you thousands over buying a new car. Most people I asked had varying opinions or weren't quite sure, because they just did the best that they could when they purchased their own used car. So I did some digging and thinking to come up with a protocol for how to buy a used car, a beginner's guide.
STEP 1: Figure out how much you can afford.
Take a look at your budget and determine how much you could realistically put towards a car. Don't look up and fall in love with any specific models or features. What car you can get depends on what you can afford. You need or want a car, but you also need to stay within your means.
If you need to finance the car then how much money can you put towards car expenses per month. If you can purchase a car outright, great! No car payment, but you will have other monthly expenses so you still need to determine how much you would be able to put towards car expenses per month.
STEP 2: Write out what you need the car to do.
Have a checklist of what you need the car to actually do and features that are non-negotiable for you. In other words, features that the car must have to be a contender. For example:
Run errands for household items and the business
Good gas mileage
Four doors
Very reliable
Easy to park
Has a large trunk
Anti-lock brakes
Electronic stability control – automatically tries to control for a skid
Basically this list is a mix of what you will use the car to do and the features that you need the car to have.
STEP 3: Research makes and models.
Now you're ready to start considering car makes and models (think brand and type) and some other crucial factors. First pick a brand based on reputation and what you're looking for e.g. safety, reliability, sporty factor etc. For me safety, reliability and good resale value were key characteristics. Hands down I discovered Toyota and Honda are the best "makes" that fit those criteria.
Then pick a model based on the features you want, refer to the list you made in step two. You can start with the recommendations you've gotten from friends and do an internet search to look up how the make and model scores for safety, reliability, etc. The site safercar.gov will allow you to check safety ratings for specific makes and models. Also search to make sure there were no recalls for that model.
STEP 4: Decide acceptable mileage and age of the car.
This step had me completely baffled at first. Yes, complete newbie here. However, I learned the best way to determine the acceptable mileage is to consider the maintenance schedule. Cars should have regular maintenance in order to keep them in top shape. The car, should have had regular maintenance checks of the different parts, fluids, oils etc (the website Be Car Care Aware has a great maintenance schedule if you want to get into more detail).
However, there are general major milestones that involve the amount of mileage and maintenance. At around three years old or 30,000 – 40,000 miles, a car is due for a major maintenance check. This visit can cost around $300 – $400. Getting a car around this milestone also means that it has already gone through a lot of its immediate depreciation. So if you go for a used car that is about three years old or has about 30,000 – 40,000 miles then you should be able to save on the first major maintenance visit or if the car hasn't had this visit use that knowledge to lower the price.
The second major maintenance visit comes at 60,000 – 70,000 miles. This visit is more expensive as parts usually need to be replaced. The next is at 100,000 miles. At this visit parts may need to be replaced as well. Although, improved technology is giving cars with 100,000 miles plus longer life.
STEP 5: Look for your car.
Now it's time to search for your car. You know how much you can afford, you've decided on your mileage cut-off, so time to find the car. Do comparison shopping on different sites and at local car dealerships. Always check on the reputation of the site and the dealership. Here are some great sites:
usedcars.com,
edmunds.com,
carmax.com,
truecar.com
cars.com
kbb.com
You'll be able to see what is available in your area, who comes closest or has exactly what you're looking for, and compare the prices.
STEP 6: Determine actual expenses.
Once you have an idea of how the car you want is actually priced. Now you can get a more accurate idea of actual expenses, how much the car will cost you a month and if that truly fits into the budget you determined in step one. Some expenses to consider:
car: loan (monthly payment) or buy outright
taxes
license fee
other fees
insurance
The taxes, license fee, and additional fees will add about 10% to the cost of the car. Be prepared. Many of the used car sites have fee calculators directly on the sites and notes about potential fees, be sure to include them.
If you're getting a loan, know your credit score. They will check your credit score so know what it is beforehand. If you have a great score then you can get better interest rates and have stronger footing to request terms and features you want during negotiations. This will save money.
STEP 7: Pick insurance before you buy.
You can't drive the car off the lot without driver's insurance. Never thought about it before, but yeah that would be illegal. Shop around for insurance rates before purchasing a car. You should have compared insurance rates in step six. Pick the best provider.
You may able to add the car to your home insurance policy. Call the company that holds your home insurance and get the car added to your policy with a binder then call again to make it official. You may be able to negotiate a better price at the car dealership when you show proof of insurance coverage.
STEP 8: Buy your used car.
You know how much it will cost, you determined you can afford it, you have insurance. You've done the ground work now it's time to purchase. You have a list of potential cars from step five, go check them out. Go during the day time so you can see everything clearly. Test drive the car. Check the A/C, heater, wipers. Check the history using a VIN on a site like CarFax.
For a private seller, then get it checked by a mechanic and check the history on a site like CarFax. Once you get a great bill of health from the mechanic and nothing bad shows up on the car's history report, ask to see the title. Make sure this is the owner of the car. When you buy, make sure you have all keys, manuals, records, receipts etc. You'll also have to do more of the paperwork such as registration, title transfer etc yourself with a private seller.
STEP 9: Drive it home.
What did you go through when purchasing a used car? What tips do you have to add?
Leave a comment below.