POM064: 10 Top Budgeting Mistakes and Questions Explained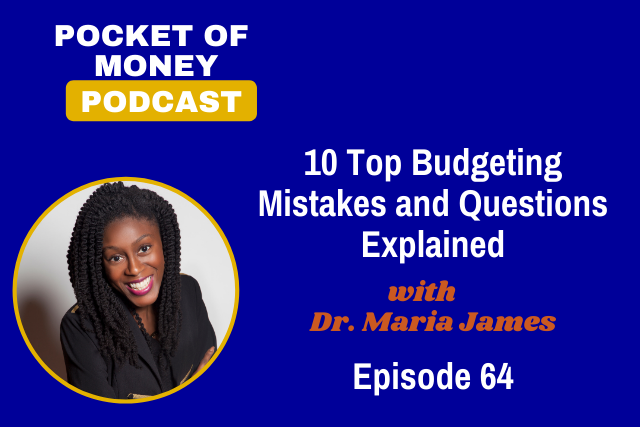 One of the main things that prevents people from consistently budgeting is how they perceive a budget. A budget is often looked that as a way to restrict spending or spend less money. However, a budget is simply a plan for your spending. The budget is a major piece of the plan to achieve financial goals. Is the plot of where your money should go in order to make progress with financial goals.
Budgeting does take some practice to get it right and, in the beginning, as in when you start using a budget or trying to become consistent with using a budget, a lot of questions will come up. There will be different scenarios regarding life events or your savings or your debt are how to handle certain situations that will come up.
That's what I discuss in this episode: the top budgeting mistakes and questions that may be preventing you from successfully budgeting.
Resources Mentioned:
WISE Financial Fitness is filled with personal finance and business courses, protocols, and resources to increase your financial fitness. You can be paired with a Junior or Senior Money Scientist to craft a comprehensive money strategy for your unique situation. 
The WISE Budget Box will help you Go from "I hate budgeting" to consistently planning, successfully budgeting, and saving money every month. In the box you'll receive everything you need to implement the 90 day budgeting system including the wise budget planner, fun financial and goals stickers you can use in the planner, and saving and debt tracking sheets.
You'll also have continuous access to the WISE Financial Fitness online academy filled with courses, protocols, and digital resources. Just when you start to fall off, the WISE Budget Box will give you a motivational jolt and you'll get the box in the mail filled with a new set of tools every 90 days.
How I Decreased My Food Budget by 79%
I decreased my food budget by 79% and it didn't have much to do with couponing. Food can be one of the more expensive categories in your monthly budget. It's not a fixed expense, the amount is dependent on you. But that's also the problem, the amount is dependent on you.
Financial Planning Roadmap 2nd Ed
This financial planner helps you consistently budget (by month or paycheck), analyze your budget, and track and analyze side hustle earnings for profit. If you don't like your financial situation, then change it.
Thanks for Listening
If you have any comments or questions about this episode, leave a comment below. If you liked what you heard subscribe on iTunes, Stitcher, or wherever you listen to podcasts and rate it. This helps the podcast show up for others.