POM063: 8 Tax Tips to Better Your Business and Personal Finances with Atiya Brown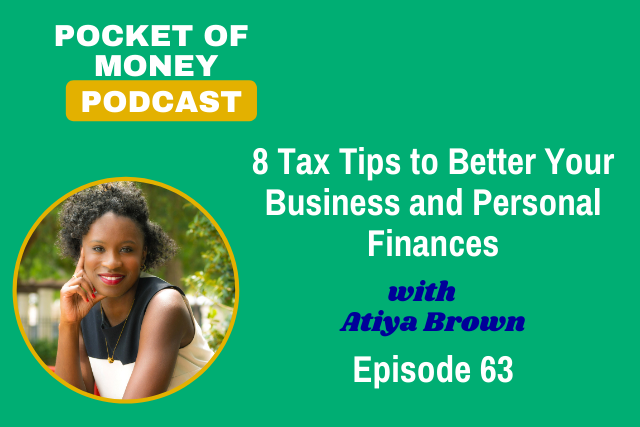 In this episode Atiya Brown, The Savvy Accountant shares:
the most common mistake new entrepreneurs make with finances
what documents entrepreneurs should track for taxes
the best tools to track items for business records
the most important items to track to avoid problems with taxes
personal finance tips for entrepreneurs
money management tips to better your credit the most important tip to get business credit
Atiya Brown, The Savvy Accountant
Atiya S. Brown aka The Savvy Accountant is a CPA, CA, and a Certified Financial Educator Instructor.
She has over 15 years' experience in the accounting/finance world. She attended The John Molson School of Business (JMSB) in Montreal, Canada for both undergrad and graduate studies. She finished in the top 5 of her graduating class before completing the Chartered Accountancy examination to become a CPA, CA.
Atiya is the creator of The Savvy Accountant™ – where she specializes in helping small business owners maximize their financial position and position them for growth. She has a particular expertise within the real estate industry and is their go-to Accounting and Tax Advisor.
Resources Mentioned:
What Are The Money Rules? by Rayna Brown
This is a children's money book written for children by a youth author.
MileIQ – mileage tracker
Savvy Accountant – business website for Atiya Brown
Live Financially Savvy – personal finance website from Atiya Brown
WISE Financial Fitness is filled with personal finance and business courses, protocols, and resources to increase your financial fitness. You can be paired with a Junior or Senior Money Scientist to craft a comprehensive money strategy for your unique situation.
Thanks for Listening
If you have any comments or questions about this episode, leave a comment below. If you liked what you heard subscribe on iTunes, Stitcher, or wherever you listen to podcasts and rate it. This helps the podcast show up for others.