POM035: Shifting Your Mindset for Financial Success with Matt Matheson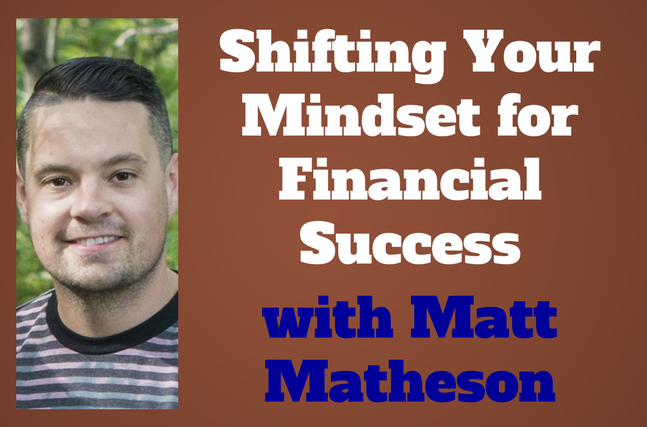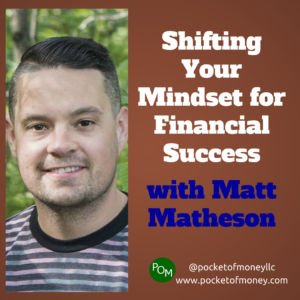 You can't continue to do the same thing and expect different results. Part of being able to make that change is changing your perspective.
In this episode, Matt Matheson joins me to discuss how to shift your mindset to make progress with your finances. We discuss:
the first steps for your financial journey
tips to have a productive money conversation with your significant other
how to stay motivated on your financial journey
6 key concepts to teach children finances
Matt Matheson
First and foremost, Matt is a husband to a beautiful, intelligent, talented wife. He married very well and is reaping the rewards of doing so. And he's a dad to the two most amazing, smart, and funny kids. They bring him so much joy. He counts his blessings often, but not often enough.
He's also a teacher and Assistant Principal who has taught for 11 years. He teaches a Personal Finance class to 5th and 6th graders, which is very cool.
He has a huge side passion for helping people experience freedom with their money. All his lessons were learned the hard way through personal experience, learning from the successes and failures of himself and others.
Using humor, honesty, and hard-won wisdom, he focuses not just on tools and techniques, but on the mindsets and behaviors that will inspire your finances.
Resources Mentioned:
Method to Your Money – personal finance blog by Matt Matheson
Start with Why: How Great Leaders Inspire Everyone to Take Action by Simon Sinek
Mindset: the Psychology of Success by Carol Dweck
Living Forward: A Proven Plan to Stop Drifting and Get the Life You Want by Michael Hyatt and Daniel Harkavy
Thanks for listening:
If you have any comments or questions about this episode, leave a comment below. If you liked what you heard subscribe on iTunes and rate it. This helps the podcast show up for others.