POM031: Paying off $47,000+ of Debt in 10 months with Devon Horace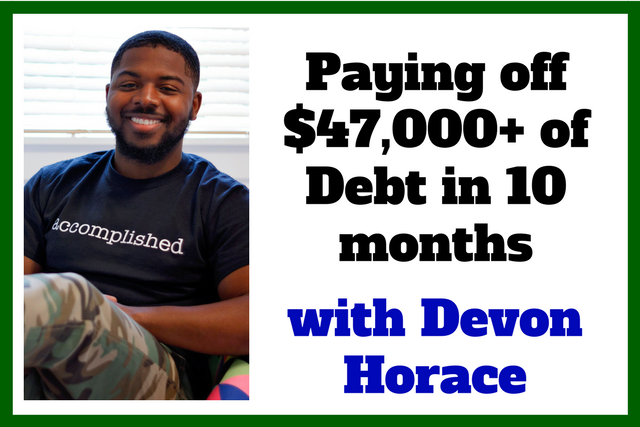 In this episode, Devon Horace explains the steps and methods he used to pay off $47,238.38 of debt in 10 months. Join us as we discuss:
a four step method to eliminate debt
specific debt elimination strategies
increasing income to put more money towards debt
his most critical financial literacy tool
Devon Horace
Devon Horace was born in Rochester, NY 1 of 8 siblings in a single parent household. In 2015 he graduated from St. Joseph's College Brooklyn, NY in Psychology, with a focus in Human Behavior and Cognitive Psychology. In May of 2017, he paid off $37,238.38 in student loan debt, and one month later, saved $10,000. When he isn't traveling opening stores and conducting brand activations, he spends his time reading financial and business literature, browsing YouTube, volunteering and meeting with small business owners and social media influencers.
Devon recently started his own consulting firm, Horace Consulting, LLC to help other young professionals through their financial journey and become more financially literate. Also provides marketing strategies for brands.
Resources Mentioned:
Mint – budgeting and budget monitoring app
Letgo – app that allows you to sell and purchase items in your area
Facebook Marketplace – app connected to Facebook that allows you to sell and purchase items in your area
The Richest Man in Babylon – personal finance book by George Clason
Rich Dad Poor Dad – personal finance book by Robert Kiyosaki
Think and Grow Rich  – personal finance book by Napoleon Hill
Contact Devon Horace
email: devon@consultinghorace.com
Thanks for listening:
If you have any comments or questions about this episode, leave a comment below. If you liked what you heard subscribe on iTunes and rate it. This helps the podcast show up for others.