How to Save Money on Holiday Travel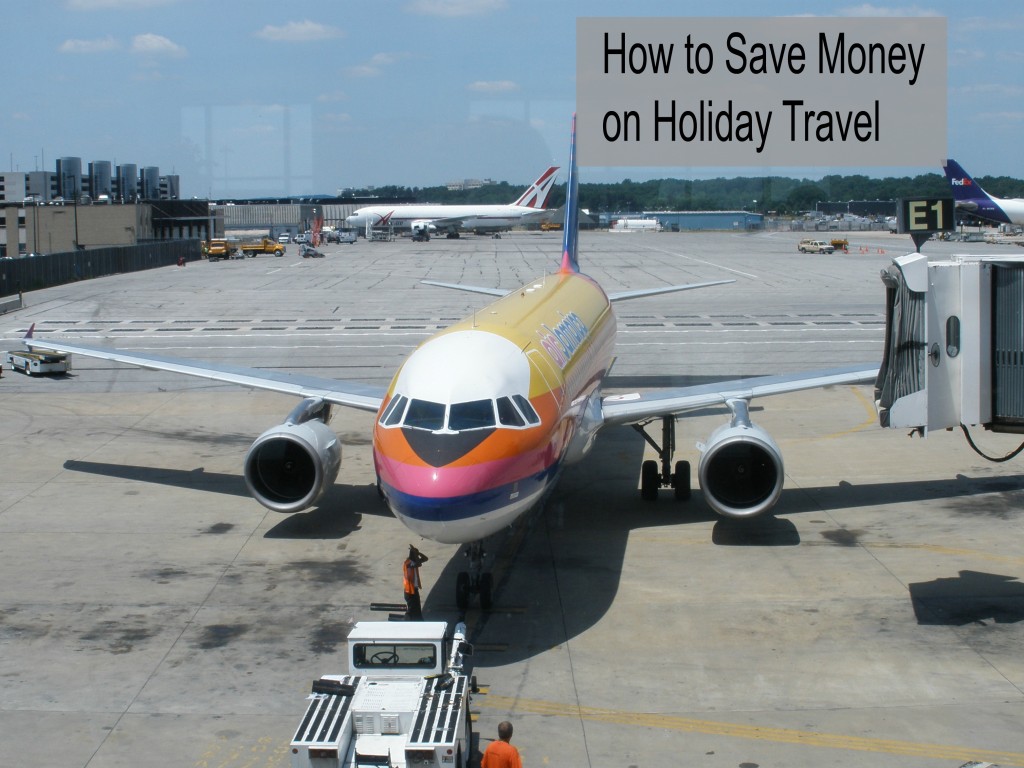 Holiday season is the one of the busiest if not the busiest time of the year to travel. Of course, you're spending money on tickets or renting a car and gas, but there are some other areas where you're spending money as well. You could be spending more than you have need to spend. Check out how to save money on several different aspects of holiday travel . 
1) Don't drive yourself to the airport.
Parking your car at the airport for a few days can end up being pretty expensive. If possible, a better option is to use a service such as Super Shuttle or a taxi. Super Shuttle will take you from your residence to the airport and vice versa. Using such a service also eliminates the risk of there being no parking spaces available during peak holiday travel. If you have to drive yourself, off-airport lots will be cheaper and you can reserve your spot before you arrive.  However, to save the most money use a service.
2) Wrap gifts after you land.
You already picked up pretty wrapping paper or you used alternative paper. You figured to save time, save energy and be prepared when you land, so you wrapped the gifts and placed them into your checked luggage. Bad move. Do not wrap the gifts then prepare to travel through security with them. The TSA may unwrap items to inspect them for safety reasons. Avoid the shock and irritation of opening your luggage to see your nicely wrapped presents ripped open. You don't want to have to do the wrapping all over again so just bring the wrapping paper or gift bags with you and do it when you land.
3) Weigh your checked bag to avoid overweight fees.
The luggage fees are here to stay. If we could cut those out we would all save money. Your first checked bag will cost around $20 – $25. Your second bag can costs anywhere from $20 – $50. An overweight bag fee will cost you $100 or more depending on the weight range. Avoid an overweight charge by weighing your bags before getting to the airport. This way you know exactly what to expect.
4) Ship presents instead of checking luggage.
Let's say you normally pack light and usually just take a carry-on and maybe one checked bag.  It may be better to avoid the majority of the fees by shipping your packages instead of lugging them with you. USPS is of course cheaper than UPS and Fedex, but in some instances may take longer. It depends on where your package is going and what type of shipping you choose. You could also look into sending your packages via Greyhound which may save money and potentially take less time depending on the bus schedules. You would have to pick up the packages at the closest bus station.
5) Try AirfareWatchdog.com.
You can save money by watching for and getting the lowest price for flights. You can input the details of your desired flight and the site will compare ticket prices on all the major sites to alert you who has your desired flight at the lowest price. If you haven't booked your flight yet I suggest using the site to find the lowest price and to set up an alert in case prices change.
6) Get snacks from the grocery store.
You've got a long journey to travel for the holidays? Whether it's by car, bus, train or plane get your favorite snacks from the grocery store before traveling.  Buying fast food on the go is much more expensive and not as healthy. Also, food at airports and rest stops are generally much more expensive, sometimes twice as much. Packing your snacks at home and bringing them with you will allow you to be healthier and save money.
7) Travel on the holiday.
This may not be ideal, it's nice to be there before the holiday and spend as much time with your loved ones as possible. I get it. However, if you're looking to save money on ticket prices traveling on the holiday is usually much cheaper. You can sometimes cut the cost of the flight in half.  Four to seven days outside of the holiday may also be much cheaper.
Have you tried any of these methods. How much were you able to save?

Leave your comments below and reach us on Facebook and Twitter.