How to Save Money While Shopping. 8 Tricks for Hitting Sales.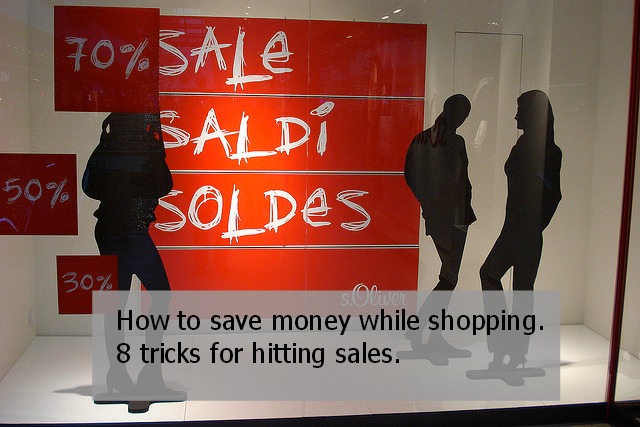 America is the land of sales, there is always a store trying to entice you with discounted items. However, there are certain times of the year when big sales occur that everyone is waiting to enjoy. Labor Day is one of those times. You can see the signs posted days in advance and your email gets flooded with Labor Day sale promotions.  The stores know many people will be off from work and they need to get rid of summer inventory items to make way for fall and winter collections. So they double their efforts to part you with your money. However, you can use tricks to thwart them and spend less money while shopping. Below you'll find tricks to use before going to the store and money saving tricks while in the store.
Tricks to use BEFORE you get to the store.
1. Know your goal.
One of the first steps to success is writing down the goal or what you're trying to accomplish. Determine the purpose of your shopping trip before you hit the stores.  e.g. stock up on clothes for next summer, get gear for an upcoming vacation, finish back to school shopping etc. If you have clearly defined your goal then you'll be shopping with a purpose and will be more likely to successfully resist other items that do not align with your goal.
2. Pick your shopping partner wisely.
Don't go with the friend or relative who will convince you to buy and then buy some more. We all have that person whose shopping advice can have you spending more than you intended. This person may tell you things like "you can afford it, you deserve it, it's not that much, wow that looks good on you and you should definitely get it" even when the price tag is more than we can afford. Don't hit the sales with this person; instead go with someone who will help keep you on task.
3. Make a list.
I like to write things down and have a game plan. I guess the scientist in me likes having a protocol to stick to or tweak. You may have some key items that you need and hope are on sale. Make a list and hunt for those items first before considering other things. As you browse you'll consciously be looking for items that are on your list and meet your defined shopping trip goal.  If you're one of the people who struggle to stick to the list then write a goal (e.g. saving for a vacation, new car, home renovation) at the top of the list to deter you from over spending.
4. Know your amount.
Check your monthly spending plan for the amount of money you can use during this trip. Know the maximum dollar amount so that you won't overspend. I like to keep a tally as I pick items up and when I'm going to more than one store I make sure to tally my previous purchase so I know how much I've spent already. Once you've purchased the items on your list and you have not reached the maximum amount you allotted to the trip, then consider other items.
5. Plan the trip.
You know the goal of the trip and you have a list of items to buy. Most of the time, you need or want to go to several stores. Determine which stores you want to visit and in what order. Also consider what items you'll get at which stores so you can get the best discount. You'll not only get the best discount on your purchases, you can also save on gas and time.
Tricks to use INSIDE the store.
1. Use your hands.
If you struggle to stick to your list or are prone to impulsive buying and you know you only need a few items, do NOT grab a shopping cart, basket or bag. Sure, these are designed to allow you to conveniently carry your items, but they also really encourage you to pick up more items. If you have more room, you're likely to continue to shop and add items even as you make your way to the register. If you need to pick up something in order to carry items, go for the smaller container such as a bag first, then basket, then shopping cart if necessary.
2. Head straight back without stopping.
Usually the clearance items are in the back, so before you go through any racks or aisles in the front keep your eyes forward and head to the back of the store first. This will minimize the fall in love have to have it factor. Stores are very strategically laid out to get you to stop at certain places or direct you towards more expensive items. The reason the clearance racks are in the back is so that you look at all the other merchandise before you reach them. Don't stop and don't look at the items that are more expensive and may not be on your list.
3. Ignore the pictures, read the words.
Companies spend millions on packaging and marketing for one simple reason, it works. Many people will gravitate toward nice packaging and ads. Whether you like lots of color or a clean simple look, if you see packaging that you like you will stop and take a look. Often we make a judgment on what must be more expensive or higher quality based on packaging, whether it's true or not. Also, if the price is in red or there's a slash through it then many assume it's a bargain. Instead read the pricing and what you get carefully and consider if it's truly a great buy. The companies have paid top dollar to know what consumers think and manipulate us based on that data. Be aware and you won't fall for their tricks.
For information on how to avoid tricks in the grocery store, check out this earlier post.
I love hearing from you. Leave your comments below and reach us on Facebook and Twitter. 
Photo credit: Christian Guthier